TO UNDERSTAND THE ESSENCE OF MAMA'S AND PAPA'S NATURE AND CHARACTER YOU NEED TO KNOW HOW THEY CAME TO AMERICA AS YOUNG IMMIGRANTS FROM RUSSIA. PAPA WAS BORN ON APRIL 11, 1893 TO INDENTURED PEASANT PARENTS, THE YOUNGEST OF NINE CHILDREN, IN THE VILLAGE OF PRUSINOVA IN THE DISTRICT OF MINSK, BYELORUSSIA.
Rememberance by Nicholas J. Juried
DAD
At the age of six he was already helping his father with chores, working on the Count's estate under Russia's feudal agricultural system. At age 19, with his father's and authorities' permission, he was granted a passport to America and arrived at New York's Ellis Island on July 8, 1912. He settled in Brooklyn and soon found work in the men's clothing industry and worked diligently to learn the English language. He proudly became an American citizen seven years later and with an entrepreneurial spirit he organized his own business manufacturing men's suits and overcoats. He prospered throughout the 1920s but the business became a casualty during the Great Depression, resulting in the family losing their home and all its possessions. Throughout the following hard times he continued working in clothing factory sweatshops and also moonlighted as a building janitor to make ends meet. Born a peasant without opportunity for formal schooling, he was self-educated by reading extensively both Russian and English newspapers and periodicals. He knew education was the path to a better life and he strongly encouraged his children and grandchildren to study and educate themselves. It was not until many years later that I came to fully appreciate the extent of their financial sacrifice to support my Cornell University education, and even more significantly, accepting the loss of my labor on the farm.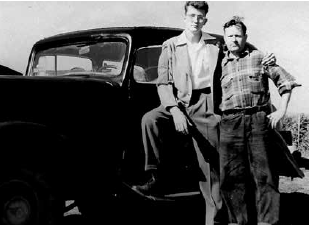 Off to Cornell, 1949. Nick and car, a gift from Papa, on right.
MOM
Mama was born on November 22, 1893 in the village of Dobrinova in the district of Minsk, Byelorrussia, also of poor farming parents, with eight siblings. She came to America by chance rather than planning. In the early 1900s her brother, Ivan, who had earlier emigrated to New York City, sent for his sister, Katerina. Just before Katerina's ship was scheduled to leave she declared her intention to marry a young man in the village and refused to go. Instead, Anna, at age 19, was given Katerina's name and passport and arrived at Ellis Island in 1913. She subsequently found work as a cook and domestic servant for a Jewish family where she acquired her eclectic Russian and Jewish cuisine. She and Papa met within the Russian immigrant community, married in 1916 and over the next thirteen years had six children: Sophia, Mischa, Luba, Anna, Vera and Nicholas.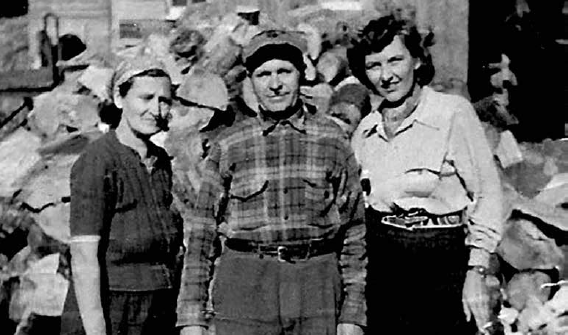 1945, Anna (Mom), John (Papa), and my sister Sophie take a pause for a pose.
THE FARM
"The Farm" was purchased in 1941 when I was 11 years old. Located off Campbell Road in Gilboa and originally intended as a summer place, it consisted of 116 acres, of which 30 acres were tillable and the rest were rocky pasture and woods. The "improvements" consisted of a spare 75 year old farmhouse lacking electricity or plumbing. Water was hand pumped from a 16-foot dug well. A two-holer outhouse was "the facility." Only two of five old barns were relatively useful. Overall, the farm had very little for which to commend itself, except for the magnificent views of the western mountain horizon, the irresistibly beautiful setting suns, and the invigorating "fresh country air." But most importantly, it reawakened Papa's and Mama's dream of "returning to the land" and the opportunity to escape an oppressive city life and environment.


First year, 1941 original farm house. PHOTO ON RIGHT: First dairy barn addition and milk house,
circa 1945.
So began their next chapter of discovery struggle, and accomplishment in America. In this new challenging environment, it would take very special qualities of character and strength to succeed. For the first two years Mama, Vera, and I lived alone on the farm while Papa continued to work in the city. Rural electrification had not yet arrived so kerosene lamp lighting was our only evening illumination for barn chores, eating supper, reading, doing school homework, etc. Obviously we had no power tools, kitchen appliances, or TV either! We had no car to drive. Papa would visit us on weekends, and if nobody else was driving up, he would take the bus to Grand Gorge and walk the 13 miles to the farm. After working all day Saturday and most of Sunday, he'd begin walking to Grand Gorge to catch the bus back to New York, arriving just in time for his garment factory job. To me he epitomized the saying, "The longest journey starts with a single step." I learned from him that if nothing better is available, just make do with what you have . . . start walking!
Once Papa moved to the farm permanently the entire agenda was to build, remodel and secure the means of livelihood. Chores and work projects were on the agenda every day, Sundays and holidays included. Nobody, including family and visiting friends, escaped the obligation to contribute their labor and skills to ever present tasks. If something had to be done, it had to be done! And despite the occasional resistance and grumbling, everyone joined in a cooperative spirit to accomplish whatever tasks were assigned. When any of us would attempt to persuade Papa that he was working too hard and should slow down, he'd reply, "It's not work . . . it's my pleasure!" It became his mantra for the whole of his life.
Because I was the only other "man" available to help Papa and Mama cope with the workload, I was unable to participate in most Gilboa  after school activities. In spite of my pleading and tears that fell to no avail, the burden of chores needed to be fulfilled and I had to carry my share. It was during this formative period of my youth that I learned much wisdom from Papa's Russian folk tales. One tale I clearly remember is about the lazy man who always shirked his work duties by complaining to others that "his shirt sleeves hurt!" So, whenever I might dillydally, complain or claim tiredness, Papa would ask, "Do your shirt sleeves hurt?" Another similar tale was about the traveling gypsy who agreed to work for his meal by helping split firewood for the woman's cookstove. The punch line was that he fulfilled his effort by contributing loud sounds of strenuous exertion synchronized with the woman's swing of the ax as she split the wood herself.
TEACHABLE TALES
Another teachable tale was his classic story of the two horseflies sucking blood from atop the plow horse's head, looking backward and saying, "My, what a wonderful job we're doing. Look what straight rows we are plowing in this field." It illustrated how some people will claim credit and take benefit from the work done by others. These stories, and very likely a bit of genetic inheritance, probably explains why some have described me as a workaholic. I was taught that laziness was the worst kind of human weakness.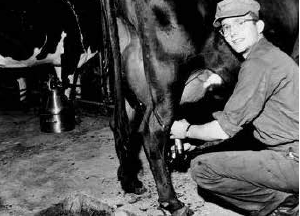 Nick milking.
Of all Papa's Russian folk tales, though, my favorite is the tale of the aristocratic princess who, while being driven in her coach by her poorly dressed, uneducated peasant driver, complained to him about the plight of her pampered lap dog who suffered from lack of appetite. No matter what was offered him—prime beef, chicken, sturgeon, caviar—he would refuse to eat, lay about, and whine. She loved the dog so much and had consulted with the highest intellectual sources for some remedy . . . all to no avail. In fact she mentioned a handsome reward to anyone who could diagnose and cure the dog of its malady . . . to which the uneducated peasant driver responded, "Let me have the dog for one week and I will cure him . . . he will not only regain his appetite, but he will even relish eating cold, baked turnips!" The aristocratic princess was skeptical of the ability of this poor, uneducated, roughly dressed Russian peasant to effect such a cure, particularly since she had already consulted with the most expensive and highest intellectual sources without success. But, being at her wit's end, she agreed and turned the dog over to the rough, uneducated peasant driver. A week later the peasant returned to the palace with the dog, along with a dish of cold, smelly, baked turnips . . . the princess fully expecting another failed cure. But, lo and behold, when the dish of baked turnips was placed before the dog, the dog could not be restrained from devouring the turnips with such vigor and enthusiasm that the princess cried out with joy and happiness, marveling to the uneducated peasant, "What is the secret of your cure?" To which he replied, "There is no secret. I threw your dog into my root cellar a week ago, released and brought him back to you today. Now, he's hungry."
Beyond common sense, the lesson I took is that wisdom is not the exclusive domain of the rich and powerful, the titled, the finely dressed, the professionally educated, or even those cloaked in authority. An open mind will find that profound intelligence, concepts, ideas, and native common sense can arise from the least likely sources, however humble. It also suggested that abundance, affluence, or sophistication do not necessarily guarantee happiness and satisfaction, but often lead to being vain and unappreciative of what you already have.
The article is courtesy of  Nicholas J. Juried and Catskill Tri-County Historical Views publication.
THE GILBOA MUSEUM IS THE PROUD CUSTODIAN OF
DEVONIAN PERIOD FOSSILS AND HISTORIC REGIONAL ARTIFACTS